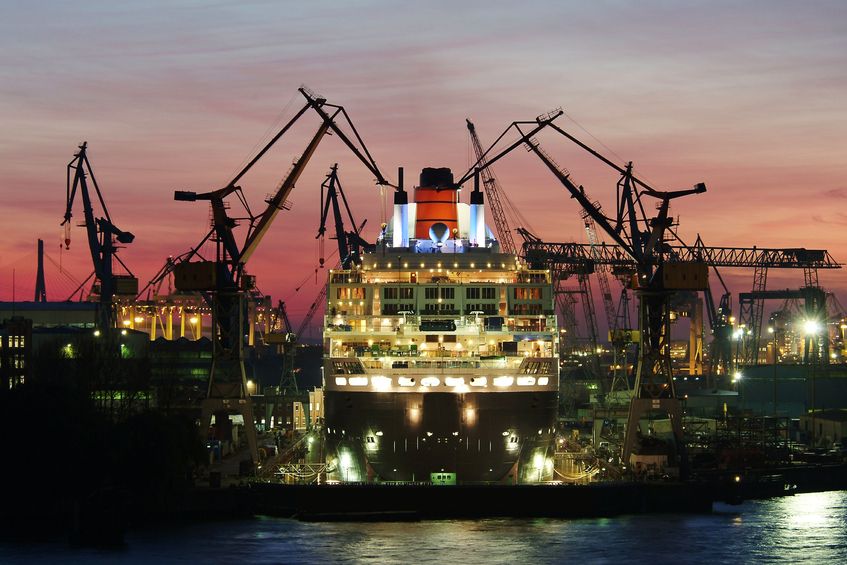 Shipyard work was at its peak within the last century due to increased international trade and demand for military ships. This means thousands of workers have also been exposed to asbestos, as it commonly used as sealant and insulation. Before 1989, workers in shipyards were regularly exposed to asbestos, but even today workers may run into asbestos that was left behind or forgotten.
About Asbestos
Asbestos is a soft metal that forms naturally underground. When an asbestos-containing material (ACM) is grinded down, cut, broken or otherwise worked on, it releases microscopic fibers into the air. These fibers can become lodged in the lungs, throat and stomach. When asbestos fibers enter the alveoli (sack-like cells in the lungs) they kill the surrounding cells in a process called programmed cell necrosis. Dead lung cells then produce a toxin called high-mobility group box 1 (HMGB1) that has linked to causing tumor development over time (mesothelioma).
It can take several decades for mesothelioma and asbestosis to show symptoms, which include:
Coughing that becomes progressively worse
Coughing blood
Abdominal pain
Muscle weakness and fatigue
Loss of appetite and weight loss
Trouble swallowing
When working in an old shipyard or repairing a old ship, ACMs have been known to include:
Valves and gaskets
Insulation
Tape
Boilers
Cement
Turbines
Plaster
Pipes
Furnaces
Floor and ceiling tiles
Sealant mix a spray sealant
If You've Been Exposed to Asbestos
If you believe you've been exposed to asbestos, it is crucial that you seek medical attention immediately. Even though it takes decades for asbestos exposure to lead to a mesothelioma diagnosis, early treatment may slow its progress. Your health should be at the top of your priorities.
Once you have been diagnosed with asbestosis or mesothelioma, experienced asbestos-injury lawyers understand that you are owed compensation for your physical, financial and psychological injuries. Your asbestos-injury lawyer will provide two significant services, in addition to just representing your interests:
Tracking down who's responsible for your asbestos exposure and resulting illness. Companies that manufactured or installed ACMs decades ago can be nearly impossible to track down without the help of investigators and years of experience. In fact, these companies may not even exist or you may have to seek compensation from an asbestos injury liability fund.
Proving that a person or company is responsible. Some of this process has to do with you collecting what evidence and documents you can regarding your injury, like a portfolio of medical bills, work documents, emails, letters etc. Your asbestos-injury lawyer will be able to piece together and add to the evidence you provide, and the evidence his team of investigators and experts have found, to make the best case possible. Furthermore, your lawyer will ensure you receive a settlement that fairly compensates you for your injuries, and will fight for your rights in court if necessary.